Free Webinar – First Steps with GeoNode 4.0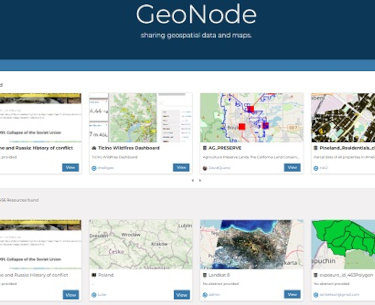 <<Recording Available on our YouTube Channel!>>
Dear Reader,
The definition of Spatial Data Infrastructure (SDI) as the collection of technologies, policies and institutional arrangements that facilitate the availability of and access to spatial data has changed little during the years. The technologies, however, have been improving dramatically and will continue to evolve, especially with regards to geoportal platforms, the SDI main interface to interact with users, which can be seen as a gateway to web-based GIS resources, enabling to discover, view, and share geospatial information and services made available by their providing organizations.
One of the most widely used applications in this context is GeoNode, an open-source framework designed to build geoportal platforms and spatial data infrastructure nodes. GeoNode development has been greatly supported by World Bank (See World Bank web site) and, since the beginning, it has been adopted by a large number of organizations worldwide. GeoSolutions itself has carried out several GeoNode installations in various countries (Malawi, Afghanistan, Mozambique, Ghana, Uganda, Nepal, and Madagascar)
Recently, GeoNode 4.0  has been released in RC version, and it can be previewed using the demo instance available here; this release is the result of a huge amount of work that took most of 2021 and 2022 to our GeoNode team, bringing many improvements over the previously GeoNode 3.3.
GeoNode 4.0 presents a brand-new landing page, making smoothly available all the powerful features of MapStore GIS client application, such as geostories and dashboards, as well as data and maps, completing the integration between the two applications. Several enhancements have been carried out on the UX presenting a simpler UI, including a more consistent organization of tools and functionalities and the removal of deprecated and unused components and code. Structure has been revamped, allowing to make new developments on a cleaner and more robust architecture, bringing also a new harvesting engine from external services.
We are hosting a free webinar on Thursday, June 30 at 11 am Eastern that provides the information about the upcoming GeoNode 4.0 release and will allow enthusiasts and users to interact with key GeoNode developers.
To learn more about GeoNode 4 and enjoy a 20 minutes of Q&A time with our lead GeoNode Leads Alessio Fabiani and Giovanni Allegri. I cordially invite you to a free webinar on June 30 at 11:00 am Eastern Time by registering at the link below!


Hope to see you virtually on June 30th!
Regards,
The GeoSolutions Team,