MapStore Release 2019.02.01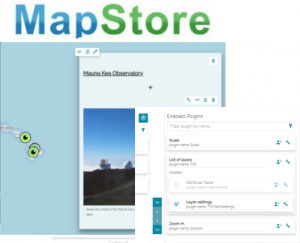 Dear Reader,
We are pleased to announce the release 2019.02.01 of MapStore, our flagship Open Source WebGIS product. The full list of changes for this release can be found here, but the most interesting additions are the following:
Improvements to the layer filtering capabilities: improved the autocomplete functionality for attribute fields according to other filters applied
Print tool: filters defined on layers are now applied to the final print too
Layers list query parameter: now you can add layers to the map defining them in a new URL query paremeter, look at the documentation here
Improved documentation: Attribute Table and Theme customization sections have been enriched
Catalog tool: improved with autosearch
Hardening: many bug fixes and performance improvements for both desktop and mobile
Within this minor release we have mainly focused our effort on the hardening by providing bug fixes on various components and functionalities: you can find the complete list on github here.
We would like to take this opportunity to whet your curiosity giving some news on the ongoing works, several interesting functionalities are under construction!
GeoStory
Yes, it's true. In the first quarter of the next year you will be able to use MapStore to do geospatial storytelling: we named the new tool GeoStory.
Using a Cascade layout there will be possible to add various kind of sections like Titles/Covers, Paragraphs and Media contents (images, videos and also maps!) with the possibility to also organize them with an Immersive layout to make your story fascinating! Below a little taste.
Application Contexts and Viewer Composer
An additional interesting feature will make MapStore even more powerful than now. The new year will bring the Application Context tool for MapStore that will allow administrators to define multiple viewer contexts in a three steps wizard with the possibility to:
Define a custom name that will identify the viewer's context path inside the MapStore URL
Define and configure which plugins need to be active inside the viewer
Configure the viewer map in terms of: default map scale/center, map CRS, layers and groups of layers in TOC, backgrounds (with the new admin UI that will be available in next major release!)
Further ongoing and future work
For the next releases we have plans to work on the following (in sparse order)
Further improvements to charts and dashboards (we have in plan to add some interesting capabilities like the possibility to define quick filters in dashboard, stay tuned!)
Further improvements to the TOC drag&drop capabilities and settings
Support for multiple map projections (expected in next major release 2019.03.00 of MapStore)
Vector Tiles and MapBox Style support
Stay tuned for additional news on the next features!
If you are interested in learning about how we can help you achieving your goals with open source products like GeoServer, MapStore, GeoNode and GeoNetwork through our Enterprise Support Services and GeoServer Deployment Warranty offerings, feel free to contact us!
The GeoSolutions team,