State of GeoNode 3.0 Free Webinar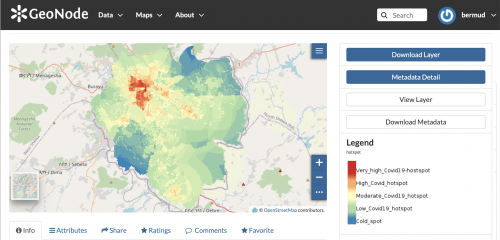 Dear Reader,
One of the core technologies in a Spatial Data Infrastructure (SDI) is a catalog. It's like a town center where food providers and food consumers meet. Shoppers walk around and visually or by smelling they discover the food they want. They engage in a small chat and if they agree with the price they buy it.
In the case of an SDI, a catalog is the virtual place where data providers and data consumers meet.  Data consumers discover resources and via rich descriptions (metadata) and previews,  they make a decision about using or not a particular data or service. However, not all organizations have implemented a catalog  and in the case of a disaster, discovery of data is still a big issue as highlighted in the recently published OGC Development of Disaster Spatial Data Infrastructures for Disaster Resilience Engineering Report.
Discovery of data is only part of the challenge. Once you find the service or dataset, you want to access it and use it. If the resource is not available via open standards, like the ones promoted by OGC and ISO, then it's like buying a piece of bread that you can only cut with one knife. It becomes frustrating and expensive to buy this kind of bread!
What if you are a data provider and in minutes you can register your data or service on the web, add metadata to it, and immediately have it available via open standards? This is what GeoNode does pretty well. It's a content management system for geospatial, build on open standards and open source. It powers lots of Spatial Data Infrastructures in the world. For example GeoSolutions has helped install GeoNode in various countries (Malaway, Afghanistan, Mozambique, Ghana, Uganda, Nepal, and Madagascar).
The World Bank, in particular, has greatly supported its development and even published a report about the return over investment they encountered when investing in the development of GeoNode. A great blog about it is available at the World Bank web site.
So, with all these said, GeoNode 3.0 was released about a month ago.  See GeoNode blog for complete details. There is usually a presentation GeoSolutions does at  the FOSS4G meeting and at  the GeoNode summit about the latest release, but unfortunately the two meetings were cancelled, so we are doing  a free webinar on July 7th at  11:00 Eastern Time.
Some highlights of what's new:
– GeoNode components have been updated to new versions: Python upgrade 3.7, Django upgrade 2.2.12, GeoServer upgrade 2.16.2.
– MapStore is now the default client greatly enriching the experience for viewing the data.
– Greatly improved analytics and getting information about who is visiting the website and their actions. For example, you can see unique visitors who trigger a specific type of event.
– Improved full GeoNode backup & restore.
– Extended GeoNode shared permission via GeoLimits to restrict users or groups to a specific geographical area (see below).
I just highlighted my favorite enhancements. To learn more about GeoNode 3,0 and enjoy a 20 minutes of Q&A time with our lead GeoNode Lead Developer Alessio Fabiani, Francesco Bartoli, as well as, Giovanni Allegri and Florian Hoedt also part of the GeoNode Project Steering Committee. I cordially invite you to a free webinar on July 7 at 11:00 Eastern Time by registering at the link below!
Hope to see you virtually on July 7th, meanwhile stay safe and keep strong!
Cordially,
Luis