Professional Training Services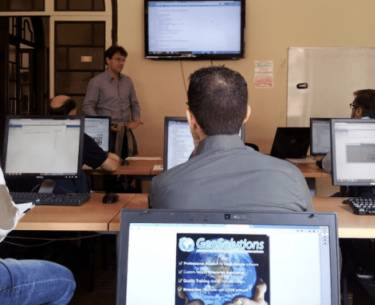 GeoSolutions provides professional training on GeoServer, MapStore, GeoNetwork and GeoNode worldwide. Our trainers are renowned professionals in the open source geospatial community. They have in-depth technical knowledge about the various open source products GeoSolutions supports, since they are part of the core development team behind them. GeoSolutions has been providing training in the last 10 years privately for clients and also during public events in global, regional, and national conferences (e.g. FOSS4G, GEOINT and INSPIRE conferences). Countries where GeoSolutions has provided training include: Italy, USA, Canada, France, Switzerland, Germany, UK, Belgium, Uganda. Madagascar, Nepal, Suriname, Zambia, Mozambique, South Korea, Austria, Finland, Spain, and Portugal. GeoSolutions also provides free webinars (1-2 per month) which are advertised in our blog. Our training material is made available on our website. For example, check the GeoServer online training.
You can find below the schedule for our public trainings scheduled for the upcoming months which you can book directly online for convenience. Contact us if you want to have an in person/private training or if you want to customize dates and/or content.
GeoSolutions Professional Trainings – Online Public Classes Schedule