GeoServer release 2.21.3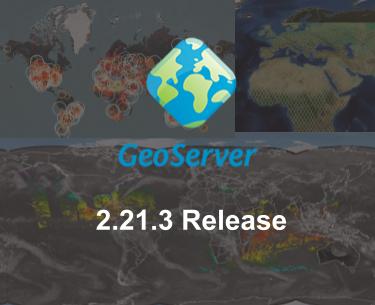 we are happy to announce the latest release of GeoServer, version 2.21.3, which is now available on the GeoServer website. This is a maintenance release of the GeoServer 2.21.x series, made in conjunction with GeoTools 27.3 and GeoWebCache 1.21.3 by Andrea Aime (GeoSolutions) and Jody Garnett (GeoCat). Special thanks go to them for making this release during the festivities.
Being a maintenance release the focus of the changes has been on stability and bug fixes, Among the changes included in this release, we'd like to point out:
Ability to report PostgreSQL column comments in WFS DescribeFeatureType output (needs a store flag to enable).
Ability to turn on and off GetFeature output formats, much like the existing WMS controls over GetMap/GetFeatureInfo output formats.
Fixed concurrent edit of users, roles and data access rules thorough the REST API.
Fixed database connection leak while editing SQL views in the GUI.
Here below we are reporting some of the most interesting changes.
GEOS-10758 OGCAPI – Features – Add storageCrs property for Collections
You can find the fill list of changes in the 2.21.3 release notes. You can find the full release blog post on the GeoServer community website here.
Cordially,
The GeoSolutions Team,