GeoSolutions to Sponsor FOSS4G North America – 23-25 OCT – Baltimore, MD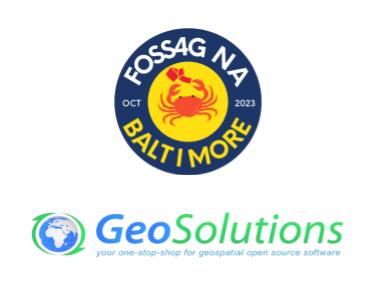 Dear Reader,
GeoSolutions, a global leader in commercial support for open-source geo software, is excited to sponsor and participate in this year's FOSS4G NA Conference in Baltimore, MD.  The conference will be held at the Hilton Baltimore Inner Harbor, a fantastic facility offering great space for geospatial professionals to learn and network on all things open-source, open data, and open science.  FedGeoDay will he held in conjunction with FOSS4GNA and the event also includes the Geo "Gala", B2B, and Ice Breaker events for networking with industry and government. A full day of pre-conference workshops kicks of FOSS4GNA, of which GeoSolutions is conducting two four-hour workshops on GeoServer and GeoNode.
This is an important event as momentum around open-source geospatial software continues to build after a pandemic-era multi-year hiatus.  Josh Delmonico of FGDC will keynote the program with FedGeoDay and FOSS4G North America boasting a strong program of presentations, panels, and speakers which can be viewed here. In particular GeoSolutions staff will hold the following workshops and presentations:
Introduction to GeoNode, the Open Source geospatial CMS, workshop, Monday, October 23 from 9:00 am to 12:00 pm with Alessio Fabiani
OGC APIs, an introduction with GeoServer, workshop, Monday, October 23 from 1:00 pm to 4:00 pm with Andrea Aime
State of GeoServer, presentation, Tuesday, October 24, from 11:00 am to 11:30 am with Andrea Aime
GeoNode at Work, presentation, Tuesday, October 24, from 1:00 pm to 1:30 pm with Alessio Fabiani
GeoServer Used in Fun and Interesting Ways, presentation, Wednesday, October 25, from 11:00 am to 11:30 am with Andrea Aime
GeoSolutions is proud to sponsor FOSS4G North America alongside Trimble, Locana, Crunchy, SparkGeo, rgi, Carahsoft, Cesium, and others.  There is still time to sponsor: this page contains a sponsorship prospectus or contact Ryan Burley directly for more information.
We look forward to seeing everyone in Baltimore for crab cakes, beverages, and a great week of learning and networking around open-source geospatial software, data, and science – learning how FOSS4G software can be applied towards addressing climate, security, and other threats facing the world today.
As always, call on GeoSolutions, the core code developers and experts on:
GeoServer, the leading open source server to publish geospatial data at scale.
MapStore, our modular open source WebGIS product to create and publish geospatial data as maps, dashboards and geo stories.
GeoNode, the open source GIS platform to create a complete and interoperable spatial data infrastructure.
If you are interested in learning more about how we can help you achieve your needs with MapStore, GeoServer, GeoNode and GeoNetwork through our Enterprise Support Services, Professional Training Services and Subscription Services  please contact us!
The GeoSolutions team,