Leveraging Open-Source Geospatial Services for Emergency Management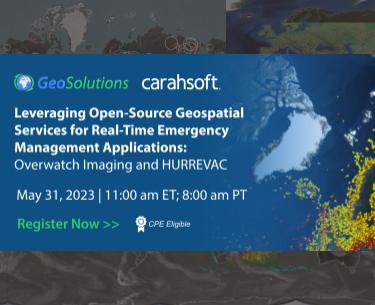 Dear Reader,
As part of the GeoSolutions in Action Webinar Series focusing on the benefits of open-source geo integration into customer applications and operations, we're pleased to invite you to attend the May 31 webinar hosted by Carahsoft. This webinar will feature GeoSolutions customers Overwatch Imaging and Sea Island Software as they demo real time applications utilizing GeoServer for real-time wildfire and hotspot mapping to HURREVAC hurricane tracking and modeling.  The invitation is below and CPE credits are available for attendees!  Thanks to Carahsoft for hosting, as well as Overwatch Imaging and Sea Island Software for participating.
You're Invited to Attend…
Open-source geo software, specifically GeoServer, is commonly used to move massive spatio-temporal data from sensor to end user applications with low latency.  The importance of this is exemplified in emergency management/response applications, such as hurricane tracking and modeling, real-time flood, and wildfire applications. In order to better assess and model disaster risk in real-time, government emergency managers need to know where to find training and support for these open-source geo software applications.
Join us for a complimentary webinar where customer users Overwatch Imaging and Sea Island Software will demonstrate different applications utilizing open-source geo service (GeoServer). Watch as Overwatch Imaging reviews a summary of a recent wildfire intelligence mission to Portugal. Learn as Sea Island Software demonstrates HURREVAC's tools for local analysis of wind, storm surge, and inland flooding threats.
Specifically, attendees of this webinar gain insights into:
What forecast products to expect from the National Hurricane Center for the start of the Atlantic basin hurricane season on June 1st
How Hurricane Ian was tracked during the lead up to landfalls in Southwest Florida and the Carolinas in Sept/Oct 2022
Topics including light fixed wing aircraft integration, multi-spectral remote sensing, and real-time data analysis
If you are interested in learning more about how we can help you achieve your needs with MapStore, GeoServer, GeoNode and GeoNetwork through our Enterprise Support Services, Professional Training Services and Subscription Services  please contact us!
The GeoSolutions team,